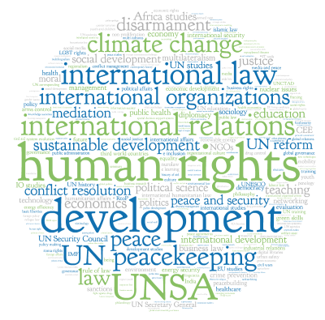 The UN Studies Association is an informal network of UN practitioners and academic, which was founded in 2007, at the Annual Meeting of the Academic Council on the United Nations (ACUNS) in New York City. Key successes include the launch of the Journal of International Organization Studies, various conferences and webinars on defining a concept of UN Studies (involving academics as well as practitioners), and most recently, the launch of the Femicide Watch Platform. We also foster close collaboration among our members, mainly targeting the next UN generation and using new technologies.
The origins
When we started, the working group was focusing on establishing and promoting an interdisciplinary, UN-focused field of studies: UN Studies. Learn more about our initial mission statement, including our original background, problem statement, and vision. Members of the working group have been mainly communicating and collaborating via our previous online community UNSAnet. In addition UNSA has provided a newsletter and information services. Our network has always operated according to grassroots principles: democratically, consensus-oriented, informally and non-hierarchically.
Previous acitivites include:
conceptual work and research through meetings, seminars, and polls;
our own UN Studies-related projects;
an online community, UNSAnet, until 2015 (On UNSAnet, members were able to create their own UN Studies profile, share their research and teaching material, advertise any projects and ideas, and search for partners. We then turned this part of the website into a state-of-the-art platform to catalyze innovation and collaborative action between UN expert stakeholders from all sectors, disciplines, regions, levels.  A prototype is available.);
the Journal of International Organization Studies (JIOS);
other member services: newsletter and UNSA Dialogues.
Current focus: knowledge-based innovation
From the beginning, UNSA has focused on promoting the next UN generation, and as a consequence of our dedication to bring in new voices and perspectives, to use and promote the use of digital, collaborative technologies. Over the years, we developed various IT based knowledge-based initiatives that reflect our refined mission to foster (policy and research) innovation.
Membership
The UNSA is open to all interested parties who seek to enter into an action- and result-oriented dialogue with like-minded UN researchers and practitioners across disciplines, fields, and professions. Particularly, it welcomes all those who wish to engage themselves actively in the community, contributing their ideas, expertise and knowledge.